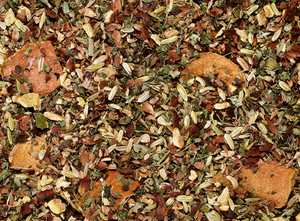 The turmeric root is an important component of Indian cuisine and the Ayurvedic doctrine. It is increasingly popular in the Tea industry.
Another well-known root, the ginger root, further ennobles the tea. Refined with fennel, aniseed as well as vanilla and rounded off by creamy aromas, the value of this gold is further enhanced. Try this mildly spicy creation with a dash of milk.
Brew for 5-10 minutes.
Water Temperature: 100° C
Use 3-4 heaped teaspoons of tea per litre of water.